What is multibed acupuncture?
For the first time in the North East, Heaton Acupuncture Clinic is offering treatments within its multibed facility where we hope to provide simple, affordable and effective acupuncture treatment for up to four people at the same time. In our multibed facility a number of people are treated in the same room while protecting privacy, dignity and confidentiality. Newcastle Community Acupuncture is a registered member of the Association of Community & Multibed Clinics (ACMAC).
Prices and Opening Hours
The initial consultation will be done in a private room, treatments will be carried out in the multibed section.  Newcastle Community Acupuncture is currently open on Monday afternoons (12noon-7pm) and Thursday mornings (9am- 12noon).
Initial Treatment – £20.00
Subsequent Treatments – £20.00
Appointments are available every Monday afternoon and Thursday morning in our multibed facility on the first floor. Those interested in having private appointments can be seen in our clinic on the ground floor.
Practitioners
Professionally registered practitioners Feras Jerjis, Louise Collyer and Tam Nortley passionately believe that high quality, affordable healthcare should be accessible to all, free from financial, social or geographical barriers.
Feras Jerjis Dip Ac, MBAcC, Traditional Acupuncturist
Feras is a graduate of the Northern College of Acupuncture in York where he gained an interest in Gynaecology after spending most of his clinical placement with Mandy Metcalfe.  He received initial training in Oriental Medicine from Mr Neil Thompson, one of the best established practitioners in the North of England and medical Chi Kung from Dr Bisong Guo over several years.
Feras worked at Newcastle Sports Injury Clinic for a number of years dealing with amateur and professional athletes up to Olympic level, giving him excellent grounding in treating muscular skeletal conditions.  Eventually, his interest in gynaecology lead him to be known for promoting fertility, his success in helping couples have children lead him to study paediatric acupuncture with Julian Scott, thus making him one of only a handful of acupuncturists trained to treat children.   His clinical expertise also includes menopausal conditions and anxiety disorders. In addition, Feras has a particular interest in some Auto Immune Syndromes.
More information is available at www.heatonacupuncture.co.uk
Louise Collyer PGDip Acu, MBAcC, Acupuncturist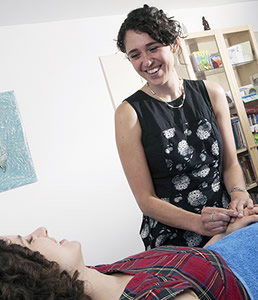 Louise is a classical acupuncturist and a member of the British Acupuncture Council.  She graduated from the Northern College of Acupuncture, a prestigious college in the U.K. which is actively involved with current research into Acupuncture.  Having completed a three year full time Postgraduate Diploma in Acupuncture she is now currently working on a project exploring how to make Acupuncture accessible to the wider community as part of a Masters Degree.
During her time at college she worked with patients with a range of conditions including Bell's Palsy, Frozen Shoulder and other muscular-skeletal conditions, IBS and G.I. Tract Disorders, Migraines, PMS/PMT and Insomnia.
Louise is a general practitioner but has a special interest in treating pain, both acute and chronic, reproductive health, digestive issues and insomnia.  Her interest in Chinese Medicine started when she began practicing Tai Qi and Qi Gong with Feras Jjerjis in 1994.
In 2017 Louise graduated with a Diploma in Chinese Herbal Medicine from the Acupuncture Foundation in Dublin and is fully qualified to prescribe herbal formulas alongside her practice of acupuncture.
She is a fully licensed practitioner of the British Acupuncture Council, The Association of Traditional Chinese Medicine, The Acupuncture Fertility Network, and The Natural Women's Health Practice.
More information is available at www.louisecollyeracupuncture.co.uk
Tam Nortley BSc (HONS), Dip Ac, MBAcC
Tam is a graduate of the Northern College of Acupuncture, York where he trained in TCM (Traditional Chinese Medicine) style acupuncture. He also trained at the College of Traditional Acupuncture in Warwick where he trained in Five Element style acupuncture. These styles compliment and inform one another in clinical practice. He then apprenticed with a practitioner who is an expert in mental and emotional health, stress and trauma. This is one of his particular interests.
He also enjoys treating digestive issues such as IBS, muscular skeletal complaints, fertility, migraines, insomnia and anything that presents; as more then anything he enjoys treating the person and his main drive in practice is to improve quality of life.
As a member of the British Acupuncture Council you can be assured that Tam adheres to their high standards of care and professional conduct.  Tam also provides support and acupuncture services to cancer patients, carers and staff at the James Cook Hospital in Middlesborough.
More information is available at www.horizonacupuncture.co.uk
Address
1st Floor,
182 Portland Road,
Sandyford,
Newcastle upon Tyne,
NE2 1DJ
Accessibility
Please Note: as yet we do not have wheelchair access to our multibed facility, however, we would be happy to offer you treatment on the ground floor, which is fully accessible, at our multibed rates.
Location
Contact Us
Please get in touch if you would like to make a booking, or if you have any questions. We can also be contacted by phone or text on 07808 867280.